【Brogent Technologies, Kaohsiung / 2010.07.21】
From this April, the local OEM/ODM manufacturers would be no longer the only way for Brogent Technology Inc. to touch her end customers. As various smart devices becoming popular, Brogent now actively works on developing applications on multi-platforms. And yet 9s-Weather is that application highly expected to open the market.
With Brogent's well developing experiences, and concerned design, 9s-Weather is a weather forecast solution that is of fascinating graphical UI, and designed to satisfy people's basic needs of weather information. Moreover, by cooperating with the well-known American weather station, 9s-Weather is also enabled to provide the user the specialized weather data and future prediction.
In order to respond the expectation from the market, 9s-Weater has also been upgraded to the widget available version which allows the user to access weather statistics more easily on the top of home, and yet with a better managing function to customize the application. Brogent happily announced that the figure shows that 9s-Weather had become the one of the most popular weather application among many Android based app markets.
9s-Weather features:
1.home screen widget (4x\1)
2.animated movement
3.3-day indicates
4.current weather information
5.Google Satellite Map
6.C/F supported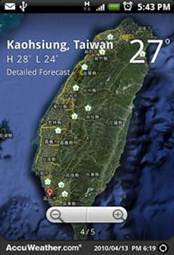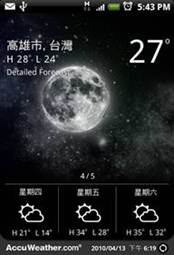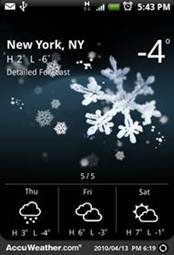 To explore more Brogent application information, please go to Brogent's facebook fans page http://www.facebook.com/pages/9s-App-Nice-App/110436972328613
About Brogent
Brogent Technologies, Inc. is a leading software company in Taiwan, which provides software-based solutions for multimedia technologies for the Internet, telecommunication, and consumer electronics markets. As a rare software design company located in Kaohsuing City, the company has established its great reputation in multimedia content designing (3D animation, web design, CD title, game, e-learning, etc.) and innovative technology providing for device manufacturers, ISPs and end users.