Weather forecast applications are the Apps that users highly rely on. Accordingly, Brogent is devoted to further enhancing the value of its weather application, 9s-Weather, and making it a superb weather App all the time.
Wonderland, a brand new theme plug-in for 9s-Weather, is better improved in the animation quality and makes users feel like going to a stunning "secret garden". It brings users marvelous unexpected surprises. With 9s-Weather and the "Wonderland" theme plug-in, users can refresh themselves via being immersed in the nature and delight their daily weather. Please download "9s-Weather" and "9s-Weather Theme+(Wonderland)" for a refreshment and enjoy them.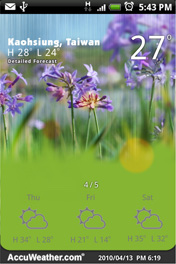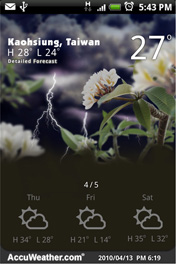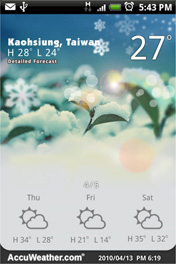 Furthermore, Wonderland series live wallpaper is available now as well. Users may go searching "9s-LiveWonderland WallPaper" at
Android Market
、Far EastTone
S Market
、or Chunghwa Telecom
Hami Apps
for downloading.
To explore more information and the latest news about Brogent's applications, please visit our Facebook
9s-App Nice-App