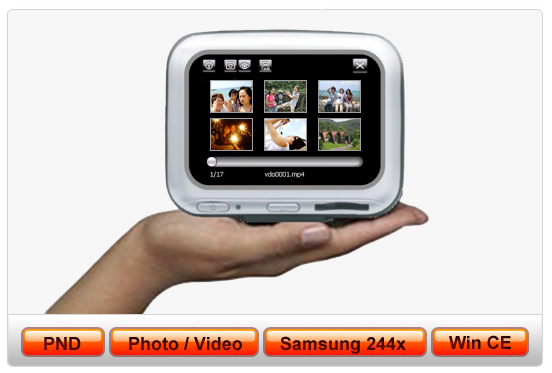 Brogent Technologies, a leading software vendor in Taiwan supplying embedded, multimedia and the best 3D mobile solutions to the Mobile/Hand-held devices industry, announces today the partnership with CoAsia Microelectronics, the leading distributor in Taiwan of Samsung 244x Arm based processor, to enable the feature of Camera Application -"CamNav" on PND.
The Camera Application – "CamNav" is based on Brogent's multimedia technologies and designed with a friendly and intuitive UI in order to provide the pleasing photo/video taking experience on PND. With the powerful software-based codecs instead of hardware deployment for the device, it lowers the cost on production efficiently and reduces the time for development without sacrifice the quality and performance. The main advantage of the solution is to enhance products to become most competitive
"CoAsia Microelectronics has a great reputation for distribution of Samsung 244x series processors in Taiwan. With such cost-effective multimedia software solution - CamNav, we are definitely cheerful to build up the partnership and bring this smart solution to customers, said C.H. Oyang, CEO of Brogent".
"Digital Video/Audio Recording and Capture application software will sharply extend application area of Portable Navigation Devices, combination of Camera and PND is very like to become next killer application after Camera Phone. Brogent's high performance MP4, JPEG encoder/decoder engine together with Samsung's leading technology 244X application processor will pave the way for glory of next PND transition. " – Commented by H.K.Lee, Director of Mobile Solution Div., CoAsia for the success of jointly developing CmaNav camera application on Samsung 244X platform.
The solution based on Windows CE and Samsung 244x series platform is now available for demonstration and device-porting. Let "CamNav" brings you the contented experience with PND photo/video-taking on the go.

About Brogent
Brogent Technologies, Inc. is a leading software company in Taiwan, which provides software-based solutions for multimedia technologies for the Internet, telecommunication, and consumer electronics markets. As a rare software design company located in Kaohsuing City, the company has established its great reputation in multimedia content designing (3D animation, web design, CD title, game, e-learning, etc.) and innovative technology providing for device manufacturers, ISPs and end users.