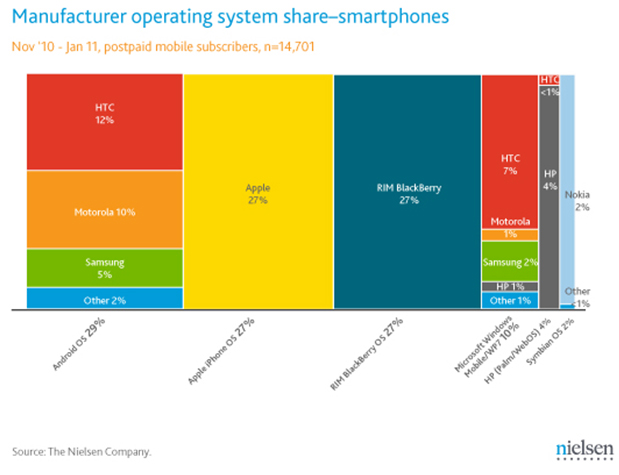 <Source: The Nielsen Company>

According to the market research firm Nelson's recent report, from November 2010 to January 2011, Google Android (29%) has surpassed Apple iOS (27%) and RIM BlackBerry (27%) in market share for the first time, becoming the champion of the smartphone operating system platform in the United States. On March 22 2011, even Amazon officially launched its Amazon Appstore for Android with a hope to seize this rapidly growing market, the Android application software download market.

On the other hand, a craze for tablet PCs has emerged since Apple launched iPad into the market. One after another brand manufacturer successively participates in this fierce tablet competition to launch Android tablet PCs. Besides, In addition to smartphones, tablet PCs are certainly another spotlight attracting the masses' attention at the 2011 MWC (Mobile World Congress). Analyst expressed that four major trends of this year's portable devices are also revealed from the 2011 MWC: 3D, light & thin, dual-core, and HD (High Definition). Previously, the mobile telecommunications industry is more "hardware-oriented." However, afterwards, in order to further improve products' value and to increase products' differentiation, brand manufacturers will turn into having their products integrated with application software more closely and introducing more integrated "hardware plus software" services. (The information above is referred to media report.)

In order to better enhance user experience, differentiate the device from others, and make the portable device a more useful and handier "tool", Brogent is devoted to the application software and the technique for portable devices all the time. With the rapid increase of Android devices, besides the widely popular weather forecast application (9s-Weather), theme plug-ins for 9s-Weather (9s-Weather Theme+), live wallpaper (9s-Live Wallpaper), and SNS application (9s-People), Brogent is going to launch album, photo editing, music player, and other related applications later on. Moreover, in order to provide tablet PC users with more high quality services, Brogent will also introduce the SNS application specifically designed for tablet PCs and the launcher which is compatible with Android platform and supports higher resolution and real-time 3D animation in the near future.

Brogent will keep paying attention to market trends and developing that meet (or even exceed) market demands and expectations. To explore more about Brogent's applications, please go searching and download at Android Market, Far EasTone S Market, or Chunghwa Telecom Hami Apps. Furthermore, Brogent is planning to launch applications into Amazon Appstore as well. Besides introducing application into application download markets, Brogent also provides brand manufacturers with customized designs and has applications embedded in devices, which could help increase products' differentiation and value greatly. For more information and the latest news, please keep an eye on our website continually or contact us at web@brogent.com, thank you!
About Brogent
Brogent Technologies, Inc. is a leading software company in Taiwan, which provides software-based solutions for multimedia technologies for the Internet, telecommunication, and consumer electronics markets. As a rare software design company located in Kaohsuing City, the company has established its great reputation in multimedia content designing (3D animation, web design, CD title, game, e-learning, etc.) and innovative technology providing for device manufacturers, ISPs and end users.