【Brogent Technologies, Taipei / 2009.09.01】
Brogent Technologies Inc., a leading software vendor in Taiwan supplying embedded, multimedia and the best 3D software solutions to the Mobile/Hand-held devices industry, announced today that its 3D Custom UI service based on Windows® CE now supports NVIDIA® Tegra™ Platform for diversity of Converged Portable Devices with powerful 3D graphical acceleration complied with OpenGL® ES 2.0.
The 3D Custom UI service Brogent provided is a completely UI design projects from start to final implementation offering expansibility of features and functions to differentiate products from others. With the capabilities of technical, creative and production, Brogent brings custom UI with intuitive and interactive user experiences to the platform for a variety of requirements.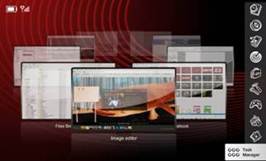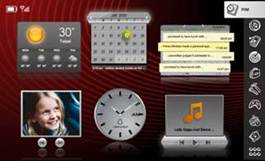 The demand for multifunctional portable devices featuring convergent technologies including Smartphone, Netbook is driving several markets, and that product is converging around entertainment and productivity in a single devices. "NVIDIA® Tegra™ is the excellent platform for the product when it comes to entertainment and power efficiency. Supporting NVIDIA® Tegra™ has an advantage in high-speed rendering by making the best use of 3D accelerator and superior multimedia performance. It also has many functions for various effects that support the development of the 3D User Interface, Application we designed for customers." "With the improvement of hardware and powerful features in the portable devices, how to combine intuitive operation with the complicated technologies is the biggest challenge, we believe a product with an intuitive User Interface reflects personality and lifestyle will enhance the consumer's daily life, said CEO of Brogent, C.H. Oyang.
To explore more about Brogent 3D Graphical UI solutions, please go to www.brogent.com
About Brogent
Brogent Technologies, Inc. is a leading software company in Taiwan, which provides software-based solutions for multimedia technologies for the Internet, telecommunication, and consumer electronics markets. As a rare software design company located in Kaohsuing City, the company has established its great reputation in multimedia content designing (3D animation, web design, CD title, game, e-learning, etc.) and innovative technology providing for device manufacturers, ISPs and end users.