16 th Mar. 2006 – Put the Golf into your pocket. Brogent bring again the fresh 3D Game to the mobile market.
Playing game on mobile is such an ordinary function, but now you can just play the superb 3D Golf Game created by Brogent. A sports game is challenging, intelligent and equipped well with Golf clubs, map function like you are experience a real Playing-Golf adventure through the different 3D scenery. " We are not playing game, but enjoy 3D " said C.H. Oyang, CEO of Brogent Technologies.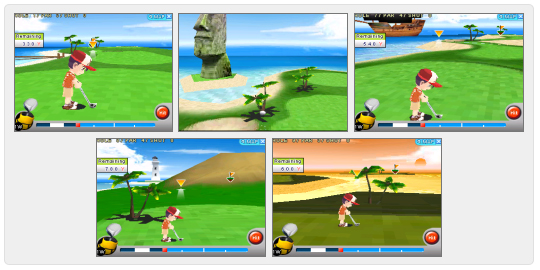 And this is not the game for man; Anna and Tony, the 3D characters will come into view for selection when starts.

Never play golf before? The 3D Golf package bring you also the additional option for showing of sight, strength, suggestion of the right golf clubs. Let's enjoy 3D and have fun.
About Brogent
Brogent Technologies, Inc. is a leading software company in Taiwan, which provides software-based solutions for multimedia technologies for the Internet, telecommunication, and consumer electronics markets. As a rare software design company located in Kaohsuing City, the company has established its great reputation in multimedia content designing (3D animation, web design, CD title, game, e-learning, etc.) and innovative technology providing for device manufacturers, ISPs and end users.