【Brogent Technologies, Taipei / 2006.05.18】
Brogent Technologies Inc., a leading software vendor in Taiwan supplying embedded, multimedia and the best 3D software solutions to the Mobile/Hand-held devices industry, is progressively taking part of "M-Taiwan Program' , the program is led by IDB Ministry of Economic Affairs in order to strengthen Taiwan's ICT infrastructure and service to provide a world class wireless broadband access environment for internet users. Specially, M-Taiwan has the following objectives: Engance Infrastructure, Upgrade the Capability of the Communications Equipments, Create a Mobile Data Service Industry, and Build a Competitive Mobile Industry Environment which is based on Mobile Life, Service, and Learning.
The object that "Upgrade the Capability of the Communications Equipments", Brogent involved is focusing on the Applicable Mobile Software in life which Brogent collaborate with Dopod to demonstrate the latest 3D Man Machine Interface on Windows Mobile Phone providing the high capability to be more interactive with Mobile Phone.
To achieve the goal and encourage the local corporate entities to be part of the program,
A Commercial Video is developed for promotion through domestic media.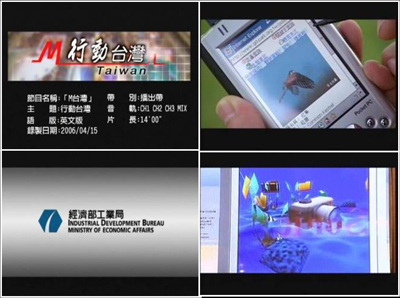 About Brogent
Brogent Technologies, Inc. is a leading software company in Taiwan, which provides software-based solutions for multimedia technologies for the Internet, telecommunication, and consumer electronics markets. As a rare software design company located in Kaohsuing City, the company has established its great reputation in multimedia content designing (3D animation, web design, CD title, game, e-learning, etc.) and innovative technology providing for device manufacturers, ISPs and end users.