March 30, 2006 – It's time for the season; Brogent creative team put their heads together and came up with the absorbing 3D Game developed based on MiniBGL® on Windows® handheld. In 2006, Brogent is engaging in the invention of 3D Game on mobile, following the success of HeatBreaker, Brogent leap into the sports game, 3D Golf is the fresh 3D game we'd like to present to you. Do not miss it!
This fun, challenging golf game has an engine that you would be fond of; At the first glance, the vivid 3D casts, Anna & Tony, come into view for selection, before you turn on your nose at the gamers' youthful approach, play a round or two, you will be amazed to find a very powerful 3D game that contains precisely golf physics and the phenomenally 3D scenes of the Golf range, daytime, nightfall, the beach …


That's not to say to switch the clubs, the map function. Brogent also added a few fun options to attract fence-sitters who've never played a golf game before. There's a chart showing of strength, sight and distance for players to get into the swing of thing, and score well in the game. Let's play and have a tremendous fun!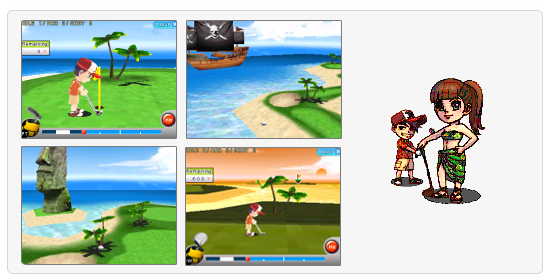 About Brogent
Brogent Technologies, Inc. is a leading software company in Taiwan, which provides software-based solutions for multimedia technologies for the Internet, telecommunication, and consumer electronics markets. As a rare software design company located in Kaohsuing City, the company has established its great reputation in multimedia content designing (3D animation, web design, CD title, game, e-learning, etc.) and innovative technology providing for device manufacturers, ISPs and end users.