To understand Android development environment & tool and ARM strategic plan on future Android, Brogent attended ARM Android Software Ecosystem Seminar on May 18. Brogent, one of ARM Connected Community & Mali partners, also visited Android partners' stands and exchanged ideas with each other joyfully.
Android, which has 32.7% market share in US smart application OS on Q1 2011, is one of most popular software development platforms in mobile industry such as smart phone, tablet PC, automotive electronics, smart household appliances, and so on. It is highly predicted that the scale of Android market will surpass Apple App store at the 2nd half year of 2011.
Brogent Technologies Inc. is a leading developer of multimedia and 3D software solutions and ARM IP technology is always as a leader in the embedded industry. From ARM9, ARM11 to Cortex-series dual core mechanism, Brogent always develops state-of-the-art embedded multimedia software solutions through its mature software development techniques, creative design capabilities, and sophisticated 3D graphic abilities. Currently, Brogent gets involved in software downloading business—providing end user the most useful, aesthetic, entertaining and comprehensive games and applications. It will be our objective to become a forerunner of content providing in Taiwan.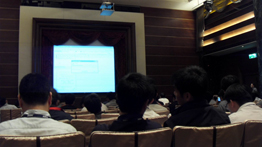 < ARM Android Seminar >
For the further information of our products, please contact:
web@brogent.com